Double your effort,
multiply your results
At one of the MOST ADVANCED training centers in Central Europe! Its LEADING TECHNOLOGY and YOUR PASSON FOR THE GAME will get you closer to your goals.
Send an email and we will contact you soon to specify your needs.
The facilities of the complex fully meet the requirements of professional football clubs. With its advanced infrastructure and excellent location, it is an ideal choice for any football club looking for an easily accessible, quality training camp destination.
The MOL Football Academy is easily accessible from the international airports of the surrounding cities.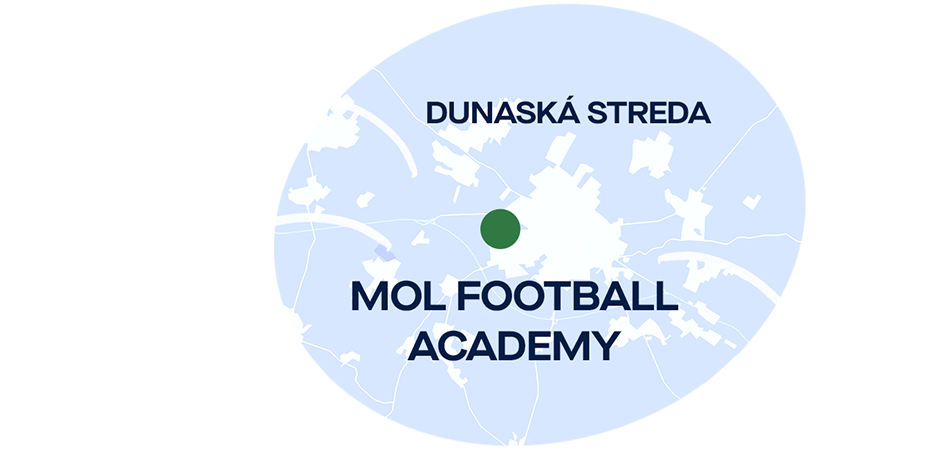 The climate in this area is typically continental, which means cooler winters and warm summers. In winter, temperatures can sometimes drop below freezing, though milder winter weather, with temperatures above zero, is also not uncommon. In summer, the temperature often reaches 30 °C. Autumn weather may vary, but along with some rainy days, long periods of sunshine can occur.
AVERAGE TEMPERATURES (°C)


The MOL Football Academy offers its services in customizable packages that allow teams to take full advantage of all training options. Based on your individual requests, we provide complete services that include accommodation, dining and a professional training environment, as well as regeneration and free- time activities.
The MOL Football Academy is the home of the DAC 1904 professional football club. With an area covering more than 17 hectares, it caters to all the needs of a professional football player.
The MOL Football Academy complex has three new generation artificial turf pitches, five pitches covered with natural turf that meet FIFA standards, as well as two double training pitches, all equipped with artificial lighting. Training sessions or matches can be recorded using the automated camera system installed on all the pitches. Some of the pitches are also equipped with undersoil heating, which keeps the conditions perfect in the winter months.
3
STANDARD NATURAL GRASS
FOOTBALL PITCHES WITH FLOODLIGHTS
3
NEW GENERATION
ARTIFICIAL TURF PITCHES WITH FLOODLIGHTS
3
ARTIFICIAL TRAINING PITCHES WITH BOARDING
1
SPECIAL TRAINING PITCH FOR GOALKEEPERS
On our training pitches with boarding, the ball is always in play, which keeps players focused and in constant motion. Next to them is a training ground designed exclusively for goalkeepers, part of which is covered with artificial turf and part with sand. There are two goals in accordance with FIFA training ground standards, the use of which helps goalkeepers simulate the match environment but under more challenging circumstances. Training sessions on this pitch help goalkeepers improve their footwork and jumping strength.
In football, detailed analysis of training sessions and matches is no longer just the domain of professional footballers. The Spiideo technology installed on the pitches of the MOL Football Academy enables the automatic recording of every training session or match. Access to the video is immediate, even during recording, which enables real-time analysis. The video room of the MOL Football Academy can accommodate 25 people and is equipped with a TV and a WiFi connection, which provides the coaching staff and players the opportunity to analyse the video recordings made during training sessions or matches.
Strength & condition training
Training camp is not only about fun, teambuilding and practicing tactics. Often it is about hard work and the physical preparation of players for the long and difficult season under the guidance of a fitness coach. The MOL Football Academy is a place where all fitness coaches can use their creativity and make hard work fun for the players.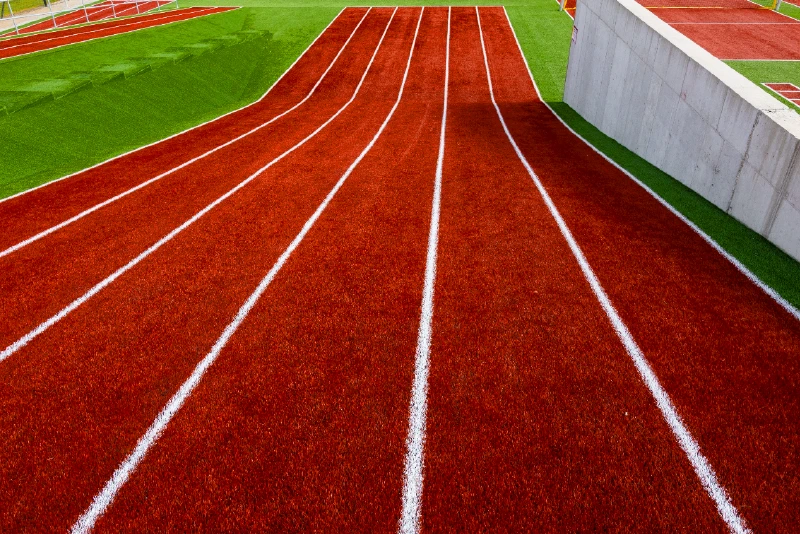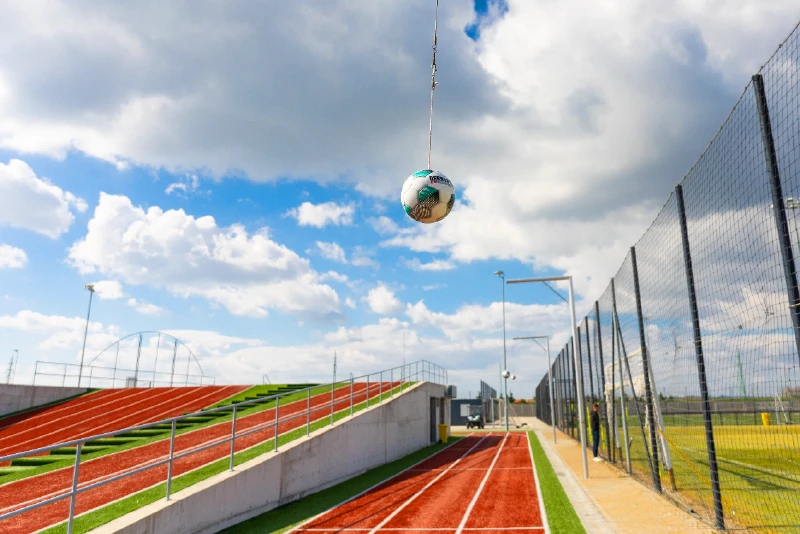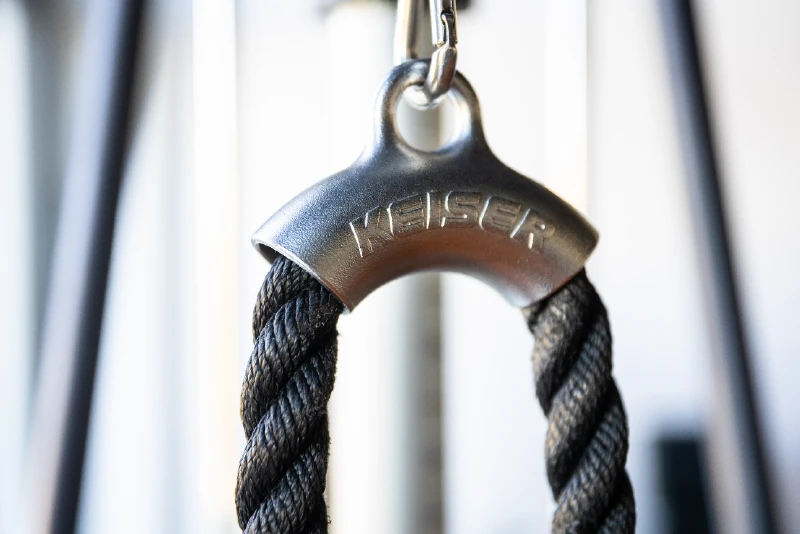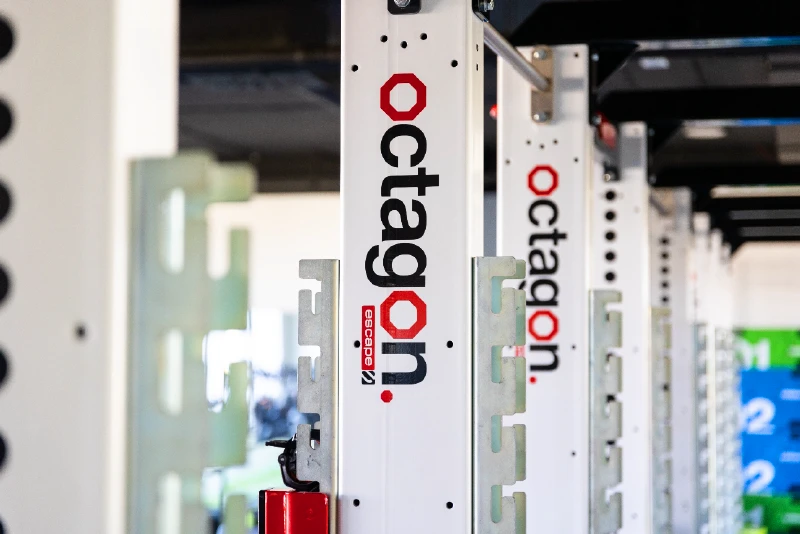 12 different types of training equipment
The DAC Bonbon hotel, located in the heart of Dunajská Streda. The hotel guarantees exclusive care for each team. All rooms are equipped with a bathroom, toilet, refrigerator, satellite TV and WiFi connection. A projector and flipchart are a matter of course in the conference room. In the wellness the counter-current pool is a favourite among swimmers, and the 14 °C water temperature in cooling pool provides guaranteed refreshment. A real specialty is the cold room with ice bath.
Double your effort,
multiply your results!
At one of the MOST ADVANCED training centers in Central Europe!